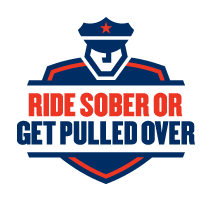 The National Highway Traffic Safety Administration (NHTSA) is using their Don't Drink and Ride Safety Campaign to encourage motorcycle riders to practice safe riding habits. While motorcycles only make up a small percentage of registered vehicles on the road, motorcycle riders are overrepresented when it comes to statistics involving fatal crashes. These fatal statistics increase in situations where alcohol is involved. Unfortunately, motorcycle riders do not have as much protection as drivers and passengers in traditional vehicles; this increases the likelihood of injury and even death when accidents occur.
Facts about alcohol impaired riding
According to the NHTSA:
"Statistics show that the percentage of intoxicated motorcycle riders in fatal crashes is greater than the percentage of intoxicated drivers on our roads."
Talking points:
In 2012, according to the U.S. Department of Transportation's, National Highway Traffic Safety Administration (NHTSA), motorcycle fatalities increased to 4,957—making up 15 percent of the total traffic fatalities for the year.
More than 1 in 4 (27%) of all motorcyclists involved in fatal crashes in 2012 were legally drunk.
NHTSA data reveals that in 2012, more than two thousand motorcyclist fatalities occurred in single-vehicle motorcycle crashes. Alcohol plays a large part in those single-vehicle crashes. Forty-three percent of the motorcycle riders killed in those crashes were impaired. On weekend nights, the percentage jumps to almost two-thirds (64%) of the fatally injured motorcyclists being drunk.
For more information and statistics you can download the Ride Sober or Get Pulled Over Fact Sheet & Talking Points document from the Traffic Safety Marketing website.
Operating a motorcycle requires an enhanced level of focus, coordination, and balance, so compromising your skills by drinking alcohol and riding can be a deadly decision. You're not only putting yourself at risk on the road—you're risking the lives of other drivers.