Stacey Rambold admitted he had sex with his 14-year-old Billings student, Cherice Moralez, 'without consent.' His victim killed herself in 2010. A Yellowstone County judge says the girl was 'as much in control of the situation' as her teacher despite mothers plea for justice.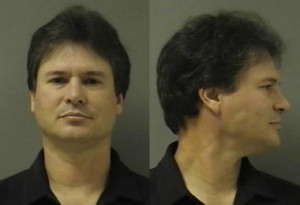 Former Montana teacher Stacey Rambold was ordered to spend 30 days in jail for raping a 14-year-old girl who later committed suicide.
A Montana judge ordered 30 days in jail for an ex-teacher convicted of raping a 14-year-old girl who later killed herself.
Former Billings high school teacher Stacey Dean Rambold, 54, was looking at 20 years behind bars as part of a deal with prosecutors, who pounced after the creepy instructor was kicked out of a sex offender treatment program.
Yellowstone County District Judge G. Todd Baugh instead sentenced Rambold to 15 years with all but 31 days suspended, the Billings Gazette reported. The judge knocked off another day for time served.
Auliea Hanlon, the girl's mother, shouted "You people suck!" as she stormed out of the courtroom, the paper reported.
Hanlon had testified Rambold's sexual relationship with her daughter, Cherice Moralez, was a "major factor" in the girl's suicide. She begged the judge for justice.
"Please put him behind bars," Hanlon pleaded.
The judge claimed Moralez was "as much in control of the situation" as her 49-year-old teacher. He added the girl was "older than her chronological age.
The case began in 2008 when prosecutors charged Rambold with three counts of sexual intercourse without consent after learning of his relationship with Moralez.
The case was still pending in February 2010 when Moralez committed suicide.
Prosecutors, worried about their case without the star witness, made an agreement with Rambold to dismiss the charges if he completed a three-year treatment program.
Program administrators terminated Rambold after he missed meetings, had unsupervised visits with minors and began having sex with a woman.
A civil lawsuit Hanlon filed against the school district revealed that school officials in 2004 ordered Rambold not to touch or spend time alone with female students.
The district settled the case for $91,000.
Baugh said he didn't think the actions that got Rambold kicked out of the treatment program warranted years in prison.
Rambold's attorney said his client was now in a new program.